NEW YORK-Yep, right at Christmas time too. What a bummer! Last week, Chris Cuomo was suspended indefinitely after documents surfaced proving he was more involved in his brother's [Andrew Cuomo] sex scandal than they thought. Since February 2013, Cuomo had been gainfully employed as the nighttime newsanchor at CNN. But after additional information surfaced that longtime newscaster penetrated his brother's sexual allegation case, CNN decided to terminate his employment, claiming that "additional information came to light this week". However no details have been disclosed.
Advertisements
Advertisements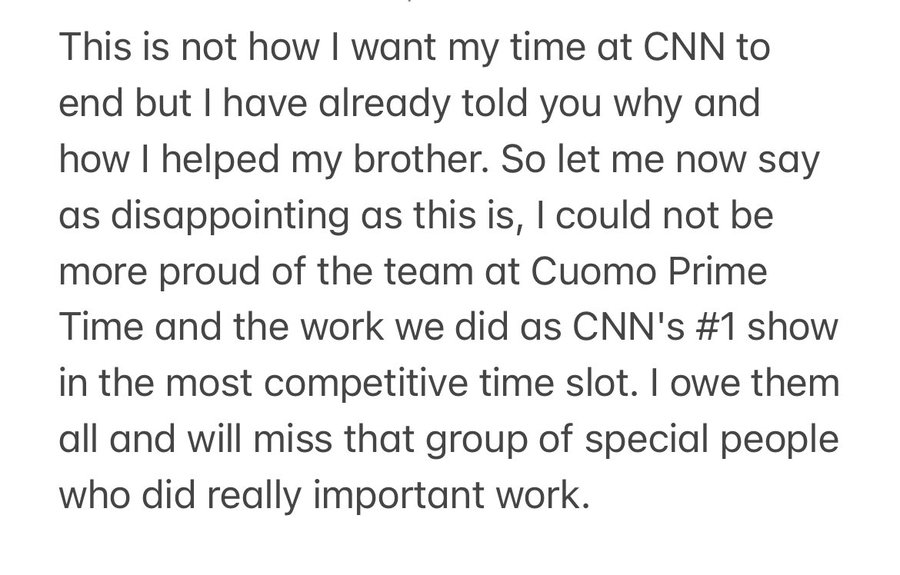 Moreover, his brother, Andrew Cuomo who is former New York governor; was forced to resign in August 2021 after allegedly sexually assaulting 11 women. One of which was Anna Ruch; one of his brother's accusers, claiming he attempted to kiss her at a wedding.
Advertisements
Chris Cuomo told investigators a "source" told him about Ruch; and a friend told him that "maybe she had been put up to it".
A transcript of texts between Chris and Melissa De Rosa [his brother's top aide] were discovered saying"I have a lead on the wedding girl" the text read; referencing Ruch.
"I would – when asked, I would reach out to sources, other journalists, to see if they had heard of anybody else coming out," Cuomo told investigators.

cnn
The broadcaster also allegedly facilitated secret recordings of conversations between DeRosa and Kaitlyn.
It's A Family Affair
Chris and Andrew seemingly have public service in their blood; as their father Mario Cuomo held his position as mayor of New York for three terms. It's not unlikely that Chris may have been exposed to information and sensitive data involved in his brother's case; due to his job. Despite the fact that most people can relate to 'sticking beside your family', Cuomo had an obligation to his career.
Timeline Of Offenses
On 11/13/2021, Chris was able to prep his brother on how to handle the forthcoming allegations against him; using his status and connections to gain deeper insight on the details in regard to his brother's sexual assault case.
The termination began as an indefinite suspension on Tuesday", indefinitely, pending further evaluation". Meanwhile, documents made their way to the desk of his employer [CNN] exhibiting an extremely 'friendly' relationship he had with aides to his brother, While his brother was trying to hold onto his governorship, Chris acted as an unpaid employee.
CNN Says More Data Arose About The Involvement Of Chris Penetrating His Brother's Sex Scandal Case
After CNN hired legal investigation service; it was recommened to move forward with Chris' termination. The network said that "while in the process of that review, additional information has come to light."
"It goes without saying that these decisions are not easy, and there are a lot of complex factors involved," Zucker said in an email to CNN staff on Saturday.

cnn
Advertisements